The balloon graduation cap decorations below are the most stunning ones we pulled from the internet. We hope you will find inspiration in these designs to make your own. A balloon-themed graduation cap is a nod to Disney movies, but can have a style all your own!
The balloons and house are from Disney's Up movie, made with Pixar Studios, and is thoroughly entrenched in pop culture. It makes perfect sense to put it on your graduation cap, as your life is just going up from here. You don't need us to tell you what college does for your intellect or capabilities.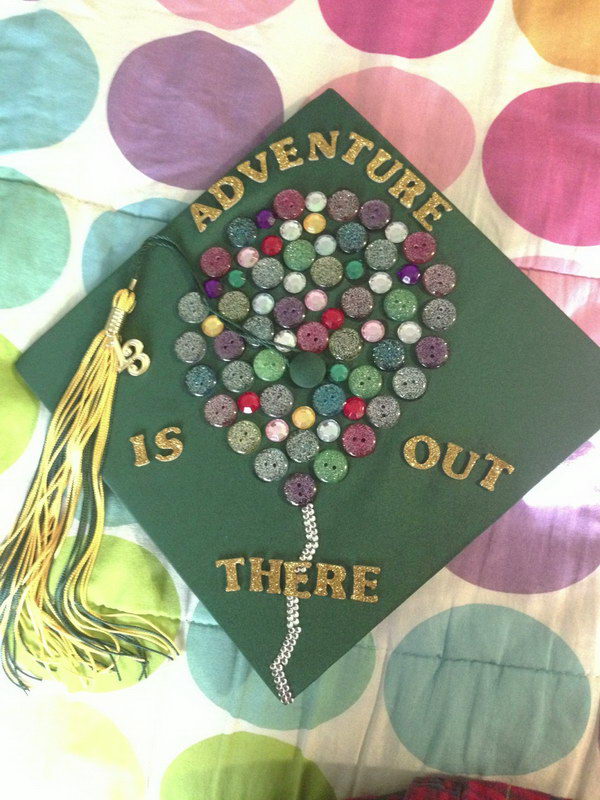 1:  It makes sense to follow the color of your graduation cap as much as possible.
2:  Shiny! Straight out of a Disney movie with the house and all.
3:  Buttons! Nice substitute for gems and rhinestones.
4:  Just a few balloons will do trick our your graduation cap!
5:  A sky background looks awesome in photos.
6:  A map is poetic too, seeing as you are now in uncharted territory! This one's thoroughly tricked out.
7:  You don't need bling for balloons! This graduation cap still gets the point across.
8:  The outline goes really well with the balloons. Perfect!
9:  Up and away the school house goes!
10:  Here we have felt fuzzies for balloons. Great job!
11:  Drawing on the balloons is satisfactory, but not as good as gems and rhinestones. A background is a must!
We have two extra ones for your graduation cap inspiration, both Disney-themed:
12:  A castle and Minnie Mouse on a bench. Look familiar?
13:  Finding Nemo was a cult classic!
We hope these great balloon graduation cap decorations help you find inspiration for your ideas. Make sure you do more research before selecting a style! You want to remember this day for the rest of your life.